!-onMouseover Link CSS Script-© Dynamic Drive (www.dynamicdrive.com). For full source code, installation instructions, 100's more DHTML scripts, and Terms Of Use, visit dynamicdrive.com-->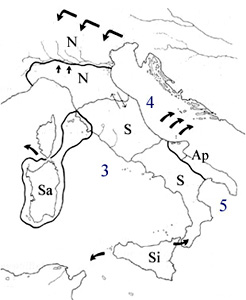 CODES TO SPECIES IN THE LIST
N = northern Italy (Friuli, Venezia Giulia, Veneto, Trentino-Alto Adige, Lombardia, Val d'Aosta, Piemonte, Liguria, Emilia-Romagna; S = peninsular Italy, i.e. the remaining part of continental Italy, Apulia excluded; Si = Sicily and small circumsicilian islands; Sa = Sardinia and circumsardean islands; Ap = Apulian Province; 3 = Tirrenian Sea; 4 = Adriatic Sea, 5 = Ionian Sea. Distribution codes for marine taxa refer to the FAO fishery zones.
Letters "E" marks the species endemic to Italy; letter "M" the species which are variously threatened or endangered according to the IUCN 1999 Red List. Letter "P" indicate parasitic taxa. Genera and species listed alphabetically.
Orders Siphonostomatopida and Monstrilloida under construction. Platycopioida and Gellyelloida are not represented in Italy.