EUCYCLOPINAE Kiefer, 1927
TROPOCYCLOPS Kiefer, 1927
The genus Tropocyclops, with a predominantly tropical-subtropical range, includes small to very small species that predominantly occupy the weedy littoral of lakes and ponds. A few species occur in the limnetic zone of large lakes.
The genus presently includes 45 named species and subspecies, widely distributed, mostly in fresh water bodies.
Recently Alekseev et al. (2013) for the endemic cyclopoid Tropocyclops matanoensis Defaye, 2007, proposed a new subgenus, Defayeicyclops [PDF] .
Tropocyclops bopingi Dumont, 2006 [China; fresh waters] [PDF]

Tropocyclops breviramus Hsiao, 1950 [China; fresh waters]

Tropocyclops brevis Dussart, 1972 [Africa; lakes]

Tropocyclops breviramatus Hsiao, 1950 [China; fresh waters]

Tropocyclops brevispinus Shen & Tai, 1962 [China, Japan; fresh waters]

Tropocyclops confinis confinis(Kiefer, 1930) [USA, Africa?, Madagascar, Asia; fresh waters]

Tropocyclops confinis frequens (Kiefer, 1931) [Africa, India, China; fresh waters]

Tropocyclops confinis awiensis Onabamiro, 1957 [Nigeria; fresh waters]

Tropocyclops confinis longifurca Dusssart, 1982 [Guadalupe; fresh waters] [PDF]

Tropocyclops extensus extensus (Kiefer, 1931) [USA, Haiti, Yucatan; fresh waters, cenotes]

Tropocyclops extensus f. longispina Kiefer, 1931 [USA, Mexico; fresh waters]

Tropocyclops federensis Reid, 1991 [Brazil; lakes]

Tropocyclops ishidai Lee & Chang 2007 Lee & Chang 2007 [Korea; springs] [PDF]

Tropocyclops jamaicensis Reid & Janetzky, 1996 [Jamaica; bromeliads]

Tropocyclops levequi Dumont, 1981 [Africa; springs] [PDF]

Tropocyclops longiabdominalis Shen & Tai, 1962 [China, Japan; fresh waters]

Tropocyclops mellanbyi Onabamiro, 1952 [Nigeria; fresh waters] +

Tropocyclops multicolor (Lindberg, 1935) [India; fresh waters]

Tropocyclops nananae Reid, 1991 [Brazil;lakes, ponds, wetlands]

Tropocyclops nigroviridis Harada, 1931 [Formosa, Japan; fresh waters] ++

Tropocyclops onabamiroi Lindberg, 1950 [Africa; lakes]

Tropocyclops parvus Kiefer, 1931 [Guatemala] [PDF] +++

Tropocyclops piscinalis Dussart, 1984 [Brazil: fresh water marshes]

Tropocyclops polkianus Einsle, 1971 [Africa; fresh waters, springs]

Tropocyclops prasinus prasinus (Fischer, 1860) [cosmopolitan; fresh surface and ground waters]

Tropocyclops prasinus breviramus (Hsiao, 1950) [China; fresh waters]

Tropocyclops prasinus candidiusi Harada, 1931 [Formosa, China; fresh waters]

Tropocyclops prasinus f. guwana Kiefer, 1931 [Java: fresh waters]

Tropocyclops prasinus jerseyensis Kiefer, 1931 [USA, China; fresh waters]

Tropocyclops prasinus meridionalis Kiefer, 1931 [South America. New Caledonia; fresh waters] [PDF] [PDF2]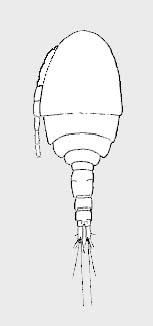 Tropocyclops prasinus f. pelagica Lindberg, 1955[Sumatra; fresh waters] +

Tropocyclops prasinus mexicanus Kiefer, 1938 [Canada, USA, Mexico, Cuba, Brazil; fresh waters, cenotes]

Tropocyclops prasinus palniensis Lindberg, 1946 [India; fresh waters]

Tropocyclops prasinus aztequei Lindberg, 1955 [Mexico: fresh waters]

Tropocyclops prasinus aff. aztequei Lindberg, 1955 (in: Suarez-Morales et al., 1996) [Yucatan; cenotes]

Tropocyclops prasinus f. peruviana Lindbereg, 1955 [Perý; fresh waters] [PDF]
Tropocyclops prasinus shagamiensis Onabamiro. 1957 [Nigeria; fresh waters ]

Tropocyclops prasinus tjeefi Dumont, 1981 [Guinea; fresh waters] [PDF]

Tropocyclops prasinus divergens Dussart, 1982 [Guadalupe; fresh waters] [PDF]

Tropocyclops pseudoparvus Dussart & Fernando, 1986 [Costa Rica; fresh waters]

Tropocyclops rarus Dussart, 1983 [Guyana; fresh waters] (left) [PDF]
Tropocyclops schubarti schubarti (Kiefer, 1935) [Brazil; fresh waters, bromeliads, wetlands]

Tropocyclops schubarti dispar Herbst, 1962 [Brazil; dried shells of nuts]

Tropocyclops setulifer Lee & Chang 2007 Lee & Chang 2007 Lee & Chang 2007 [Korea; springs] [PDF]

Tropocyclops wellanbyi Onabamiro, 1952 [Nigeria; fresh waters] +

+ questionable species
++ probably syn. of T. prasinus prasinus
+++ considered syn. of T. tenellus by Dussart & Defaye (1985)




KEY TO AMERICAN SPECIES OF TROPOCYCLOPS IN: Reid J.W. 1991. Some species of Tropocyclops (Crustacea, Copepoda) from Brazil, with a key to the american species. Bijdr. tot Dierk., 61 (1): 3-15.







AFROCYCLOPS G.O. Sars, 1927



Afrocyclops alter Kiefer, 1935 [Ethiopie; lakes]

Afrocyclops curticornis (Kiefer, 1932) [Africa; fresh waters]

Afrocyclops doryphorus (Kiefer, 1935) [Africa; fresh waters]

Afrocyclops gibsoni gibsoni (Brady, 1904) [Africa; fresh waters] [PDF]

Afrocyclops gibsoni abbreviatus (Kiefer, 1933) [Java, Bali, Madagascar; fresh waters]

Afrocyclops gibsoni ondoensis Kiefer, 1952) [Zaire; lakes]

Afrocyclops herringi Alekseev & Sanoamuang, 2006

Afrocyclops ikennus Onabamiro, 1957 [Nigeria; fresh waters]

Afrocyclops lanceolatus Kiefer, 1935 [Africa; fresh waters]

Afrocyclops nubicus (Chappuis, 1922)
Afrocyclops pauliani Lindberg, 1951 [Madagascar; lakes]

Afrocyclops propinquus (Kiefer, 1932) [Africa; fresh waters]

Afrocyclops sparsa Dussart, 1974 [Ethiopie; fresh waters]




QUESTIONABLE SPECIES
Afrocyclops dumonti Alekseev (?)