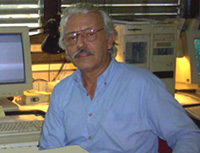 Giuseppe L. Pesce

VIVI COME SE DOVESSI MORIRE SUBITO
PENSA COME SE NON DOVESSI MORIRE MAI
(Giorgio Almirante)

Ogni essere umano, nel corso della propria esistenza, può adottare due atteggiamenti: costruire o piantare.
I costruttori possono passare anni impegnati nel loro compito, ma presto o tardi concludono quello che stavano facendo. Allora si fermano, e restano lì, limitati dalle loro stesse pareti. Quando la costruzione è finita la vita perde significato.
Quelli che piantano soffrono con le tempeste e le stagioni, raramente si riposano. Ma, al contrario di un edificio, il giardino non cessa mai di crescere. Esso richiede l'attenzione del giardiniere, ma, nello stesso tempo, gli permette di vivere come in una grande avventura.

Tutti vogliono essere in cima alla montagna, ma la felicità si trova quando la scali: bisogna godersi il viaggio e non pensare solo alla meta !

Born in Bari (Italy), December 13, 1938

Graduate at the University of Bari, July 1965

Full Professor of Zoology, currently working at the "Dipartimento di Scienze Ambientali" University of L'Aquila (Italy)

Teaching interest: invertebrates sexuality, reproduction and evolution, crustaceans biology and phylogeny

Research: systematics and biogeography of crustaceans (copepods, asellid and microparasellid isopods, amphipods of the genera Hadzia and Bogidiella, mysids. Biospeleology. Groundwater biology. Biodiversity in aquatic subterranean environments. Ground waters quality and pollution

Member of WAC (World Association of Copepodologists)

Scientific Adviser of the "Museo del Sottosuolo P.Parenzan", Latiano (Brindisi)

Scientific Adviser of the "Museo di Speleologia - V. Rivera", L'Aquila

Editor in Chief of The " Groundwater Biology" and "Bollettino di Ricerca ISBioS"

Member of the New York Academy of Sciences



Hobbies: Web graphics and design; multimedia editing, videoprojection, DVD mastering, movies history, classic and modern music.

RESEARCH COLLABORATIONS

Western Australian Museum, Perth, West-Australia (W. F. Humphreys)
Department of Conservation and Wildlife Management, Wanneroo , Australia (S. A. Halse)
CSIRO Land & Water CRCFE Freshwater Res. Center - Alburg, NSW Australia (R.J. Shiel)
Texas A & M University at Galveston, USA (T. M. Iliffe)
Project on Groundwater fauna of centrall Asia (I. Mirabdullayev)
Institute of Marine Biology, Kotor, Montenegro - Yugoslavia (S. Karanovic)
Institute of Marine Biology, Kotor, Montenegro - Yugoslavia (I. Karanovic)
Institute of Animal Ecology, Gent - Belgium (G.M. Elshabrawy)
Institut de Zoologie, Sofia, Bulgaria (I. Pandourski)
Department of Zoology - University of Nagarjuna - India (Y. Ranga Reddy)
ISBioS,The Institute of Biospeleology (M. Camassa)
G.S. Karaman, Podgorica, Yugoslavia
---
<!IMG SRC="kilroy1.gif" width=97%>

ADDRESS
HOME ADDRESS : Via Santa Maria al Colle, 29 67019 Scoppito (L'Aquila - Italy) phone: 0862-369282;
e-mail: luciopesce@virgilio.it; pec: luciopesce@pec.it